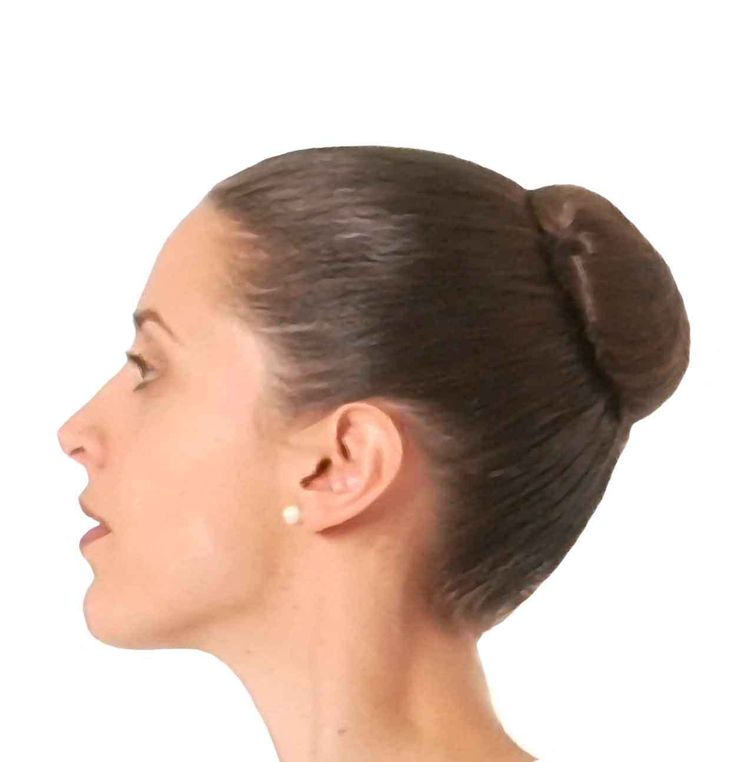 When dancers do their hair for stage, performance or exams they need to make sure that hair is slicked back away from their face. This is so that your face can be clearly seen by the audience and so that the audience is not distracted from the performance. You may feel that this is unnatural; however, on stage you will look much better if you have no fringe of fly away hair. Some classes may be requested to wear their hair out i.e. some jazz routines, but as a general rule hair must be neat and tidy and securely in place.
Please see below left a picture of a tidy ballet bun at correct height of head. At the bottom of this page please see instructions for High Ponytails
To Create Your Ballet Bun You will Need
A Brush & Comb
A strong Hair Elastic that matches the colour of your own hair
Hair Pins
A Hair Net matching the colour of your own hair
Hair Spray
Video Tutorial for medium length hair – Ballet Bun
Video Tutorial for long and thick hair – Ballet Bun
Video Tutorial for short hair and or with fringes – Ballet Bun
High Ponytails for Dance
Please see the below an image with the correct placement of a ponytail which can be curled with either hair rollers, straightener or a curling wand.
To Create Your High Ponytail You will Need
A Brush & Comb
A strong Hair Elastic that matches the colour of your own hair\
Hair Spray
Either a hair straightener, Curling wand or hair curlers
Video Tutorial to create your High Ponytail with hair wrapped to cover elastic
Video Tutorial – How to use a curling wand to curl your ponytail
Video Tutorial – How to use a hair straightener to curl your ponytail