2020 Class uniforms
For a list of class uniforms for 2020 download the pdf – click here
Studio Uniforms
We are very excited to introduce some new products and dance wear options to our TMP uniform range. Some of the items include fabulous Hip Hop Jersey's, sublimated dance pants and jackets, bags and so much more…
To check out our full new range please visit our TMP Uniform Store where orders can be placed at any time during the year http://tmpdancestudios.deco-dance.com/
Payments are to be made directly via our TMP Uniform Store website with purchased items collected in class once they arrive.
Second-hand Dancewear and PAY IT FORWARD
The concept of PAY IT FORWARD is simple. Do a good deed for someone and they will feel inspired to do a good deed in return for another person and so on…
We would love to use the pay it forward concept within our studio in a way of passing forward pre-loved dance shoes and dancewear that is no longer needed as it may be too small for your child. We have updated our facebook second-hand dancewear page to include our Pay it forward initiative. Within this group you will be able to list dance related items that you would either like to donate or sell. Parents of our school are then able to contact you within the group to ask questions and to organise meeting to collect items. Pay it Forward will enable our families to save money and to recycle items that are no longer needed, as well as give families the opportunity to connect and to help someone in our TMP community.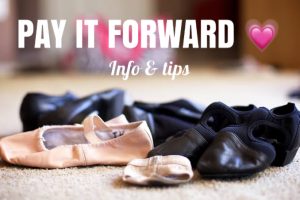 To Pay it Forward or for second-hand dancewear and costumes – join the Facebook Group "TMP Dancewear & Costume Buy, Swap & Sell"